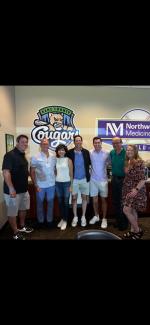 Our 40th Year in Business
On July 11, we celebrated our 40th year in business at Northwestern Medicine Field where we and approximately 100 clients and guests watched the Kane County Cougars take on the Gary SouthShore RailCats. By all accounts it was a huge success. I was privileged to throw out the first pitch before the game and, during the festivities, I gave the following speech:
Everyone here tonight has contributed to this 40-year journey. First and foremost, we wouldn't be here tonight without our wonderful clients. As I have stated many times, we consider our clients an extension of our family. Thank you.
In 1983, I started my business in downtown Glen Ellyn. I was there for 16 years. Those of you who were clients in those early days remember the difficulty trying to find a parking place and climbing the steep stairs to my small, cozy office where we were able to conduct business in between freight train whistles and clacking. It is there that many of you met Doreen. At the time we were dating, and she would help on Saturdays while she worked full-time at Commonwealth Edison. She has been with me every step of this journey and I would not be here without her love and support. Thank you, Doreen.
By 1999, we had outgrown the Glen Ellyn office and moved to our current office in Wheaton. I distinctly remember a 4-year-old Troy coming to the office for the first time, walking into the vacant office next to mine and proudly proclaiming "Daddy, someday this office is going to be mine!" Nineteen years later he made that prediction come true. Troy has been a tremendous addition and his contributions have allowed us to continue to grow and enhance our ability to provide the best service to our clients. Thank you, Troy. To make it truly a family affair, our daughter Ana has been helping as needed. She has been great at pitching in.
Now, in 2023 we have opened a second office in Florida so I can spend time there during the winter months and attend my beloved Miami Dolphins home games. I am very blessed and couldn't have gotten to where we are today without our wonderful clients and external partners who provide us with critical support.
There are some individuals that I am going to recognize for their contribution to us reaching the 40-year mark:
First, my family members:
My parents. Although my mother and father cannot be with us tonight, my father was an early mentor and gave me my first taste of preparing tax returns when I helped in his business. They have always been there for me, and I especially treasure the phone calls they made each year on April 15 to celebrate the end of tax season.
My brother Ben, who from the start referred to us about half of the Villa Park police department. When starting a business from scratch those early referrals were critical and very welcome. Thank you, Ben.
My Aunts and Uncles who have been supportive from the beginning, referring us clients and entrusting us with their own financial affairs. Thank you Uncle Joe, Aunt Lou and Uncle Wayne.
All of the support staff I have had over the years, which at various times included my brother Ben, Pam Bielak and Kathy Suhi – thank you. You all made valuable contributions to get us where we are today.
Thank you, Jennifer, for all your hard work on this event and the great suggestion to celebrate this milestone at a Cougars game. You have been an exceptional addition to our team. Troy and I truly value your contributions and efforts on our behalf.
As you all know, I am an enrolled agent and through the Illinois Society of Enrolled Agents I met Ann Esarco. She has been a valued friend and colleague for over 30 years and traveled all the way from Lake Geneva to share in our celebration. Thank you, Ann.
Cetera Financial Specialists is the broker-dealer/RIA with which we have chosen to affiliate. We have been with one form or another of this entity since I got licensed in the investment field in 1987. They have always given us great support and that team today includes Joe Boyko, the Growth Officer for the Upper Midwest Region. Joe is always there to assist with any challenge we face and always goes the extra mile. Thank you, Joe.  Also here is Ron Krueger, the President of CFS who came all the way from Tampa, Florida to help us celebrate. Ron, it means a lot that you are here with us tonight and we truly value our association. Thank you, Ron. Finally, Gregg Ruvoli, who previously held Ron's position until his retirement three years ago, is with us tonight. Gregg has become a friend and has been a regular part of the foursome with Troy and me at the annual Cetera golf outing. Thank you, Gregg.
In closing, without each of you we couldn't have made it to 40 years. Thank you for being here to help us celebrate this significant milestone. Our relationship means more than you can imagine.