Company Logo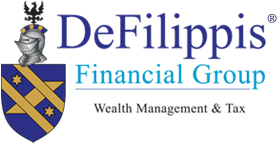 Email
steve@defilippisfinancial.com
Disclaimer
Securities and advisory services offered through Cetera Financial Specialists LLC, member FINRA/SIPC. Advisory services offered through Cetera Investment Advisers LLC. Cetera entities are under separate ownership from any other named entity.
Individuals affiliated with this broker/dealer firm are either Registered Representatives who offer only brokerage services and receive transaction-based compensation (commissions), Investment Adviser Representatives who offer only investment advisory services and receive fees based on assets, or both Registered Representatives and Investment Adviser Representatives, who can offer both types of services.
Financial Advisors do not provide specific tax/legal advice and this information should not be considered as such. You should always consult your tax/legal advisor regarding your own specific tax/legal situation.
Separate from the financial plan and our role as a financial planner, we may recommend the purchase of specific investment or insurance products or account. These product recommendations are not part of the financial plan and you are under no obligation to follow them.
Life insurance products contain fees, such as mortality and expense charges (which may increase over time), and may contain restrictions, such as surrender periods.
[Online Privacy Policy|Privacy Promise|Business Continuity|Important Disclosures|Order Routing]
1751 S. Naperville Rd.
Suite 102
Wheaton, IL 60189
United States
Insurance Licensed States
Georgia
Illinois
Missouri
North Carolina
Wisconsin
Security Licensed States
Arizona
Arkansas
California
Colorado
Florida
Georgia
Illinois
Indiana
Iowa
Maryland
Minnesota
Mississippi
Missouri
Nebraska
Nevada
North Carolina
South Carolina
Tennessee
Texas
Virginia
Washington
Wisconsin
Company Description
We are dedicated to providing investment management and strategic wealth planning that is right for you. Simply put, we strive to be our client's trusted advisor.